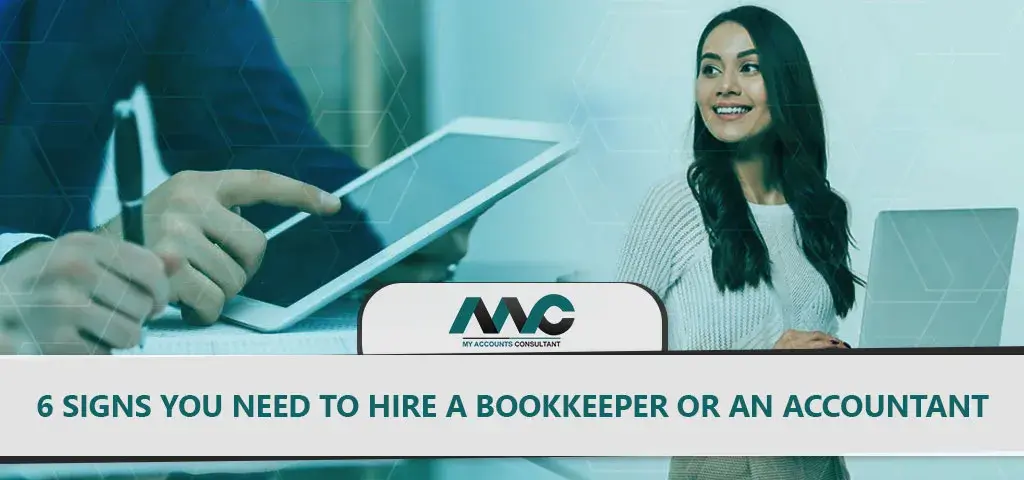 If you're a small business owner, you know that keeping track of your finances is essential to your success. But doing everything yourself can be overwhelming, and it's easy to miss important details. That's where a bookkeeper or accountant comes in. Here are six signs that you need to hire one accountant for your business or professonal solution.
Top 6 Signs You need to Hire a Bookkeeper

#1 – It Takes Too Much Time
Are you tired of wasting time on bookkeeping tasks? You're not alone. Many small business owners feel bogged down by bookkeeping and accounting responsibilities. But what if there was a way to take some of the load off your shoulders? Hiring a bookkeeper could be the solution you've been looking for. Bookkeepers can help you manage your finances, keep track of your expenses, and more. So if you're ready to free up some extra time, consider hiring a bookkeeper today like myaccountsconsultant.

#2 – Your Books Are Always Behind
Are you one of those business owners who always feel like they're behind, no matter how hard they try? Are you drowning in paperwork, and can't seem to find enough hours in the day to get everything done? It might be time to hire a bookkeeper. A good bookkeeper can take all the burden of paperwork off your shoulders, and help you keep your books organized and up-to-date. They can also give you valuable financial advice, and help you grow your business. So if you're feeling overwhelmed by your books, consider hiring a bookkeeper.

#3 – You Have Bigger Goals
If you're like most small business owners, you wear a lot of hats. You're the bookkeeper, the marketer, the salesperson, and the accountant. But what happens when you can't do it all yourself? That's where hiring a bookkeeper comes in. A good bookkeeper can help you achieve your bigger goals by freeing up your time to focus on other areas of your business.

#4 – Sales Are Strong, Profits Are Not
Business owners often find themselves in a situation where sales are up, but profits are down. What's going on? Bookkeeping may be the answer. By analyzing your financial records, a bookkeeper can help you spot trends and figure out what changes you need to make to improve your bottom line. Don't let your hard work go to waste - Hire a quickbooks bookkeeper today!

#5 – Google is Your Accountant
Google is a great resource for doing your own accounting. With their free online tools, you can manage your books yourself and keep track of your business finances. In this post, we'll walk you through how to use Google's tools to track your income and expenses, create invoices, and more. So whether you're just starting out in business or you're looking for a way to save money on accounting costs, Google is a great option!
#6 – Cash Flow Problems Are Constant
Almost any small business owner will tell you that cash flow problems are a constant battle. There are a lot of different ways to try and address this issue, but one of the most important is to make sure you have a solid bookkeeping system in place. Knowing where your money is coming in and going out is key to making informed decisions about your business. If you're not sure where to start, hire a bookkeeper to help get you on track. They can help you streamline your books and make it easier to keep track of your finances. Having accurate knowledge of your company's financial status is essential for making wise decisions about its future.
A Simple Solution
Are you tired of trying to keep track of your finances on your own? Do you feel like you're drowning in paperwork and receipts? Believe it or not, hiring a bookkeeper may be the solution for you. A professional bookkeeper can help take the burden off of you and make sense of all your financial information. They can help you organize your records, set up a budget, and even file your taxes. So if you're feeling overwhelmed by your finances, it may be time to consider hiring a bookkeeper.

Contact us here for Hire a Bookkeeper or an Accountant.