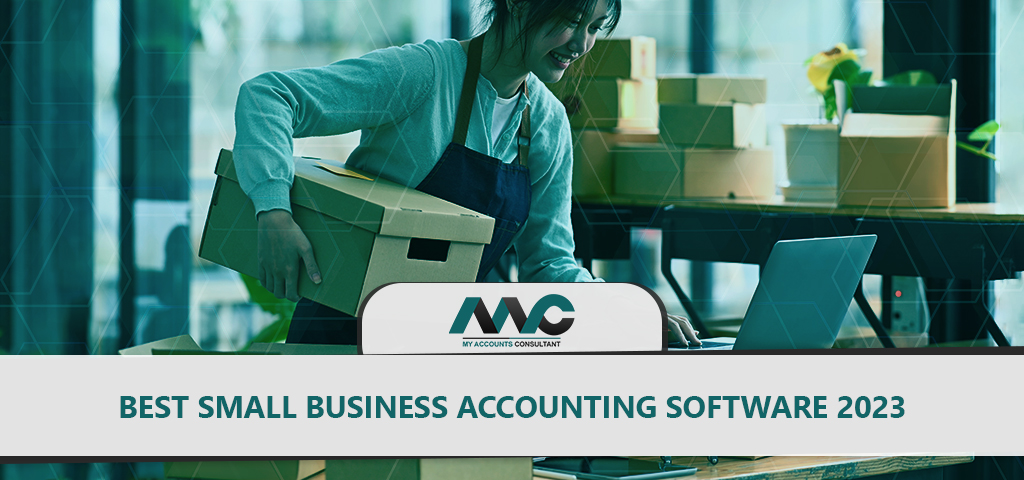 As a small business owner, it is essential to have the right accounting software to stay on top of your finances. With the right Small Business Accounting Software, you can keep track of your income and expenses, manage payrolls, generate financial reports, and make sure that your taxes are in order.

The best small business accounting software for 2023 should be able to meet all these requirements and more. It should be easy to use, cost-effective, and provide features that are tailored for small businesses. In this, we will discuss some of the best accounting software solutions available in 2023 for small businesses.
How did We evaluate Small Business Accounting Software?
Choosing the right accounting software for your small business can be a daunting task. With so many options available, it can be difficult to determine which one is best suited for your company's needs. We will discuss the features and capabilities of various software packages, as well as their cost and user reviews. Additionally, we will provide our own recommendations based on our evaluation process.

QuickBooks Online: Best Overall Small Business Accounting Software
QuickBooks Online is the best overall small business accounting software available on the market today. It allows businesses to quickly and easily manage their finances, payroll, invoicing, taxes, and other financial tasks. With its intuitive user interface and powerful features, QuickBooks Online makes it easy for businesses to stay organized and efficient while managing their finances. It also provides helpful insights into business performance with its in-depth reporting capabilities. QuickBooks Online is an ideal choice for any small business looking for a reliable and comprehensive accounting solution. You can manage your business financial services with QuickBooks bookkeeping services.

Zoho Books: Best Accounting Software for Use on a Mobile App
Zoho Books is a cloud-based accounting software that provides users with an easy and efficient way to manage their business finances on the go. It's designed to be used on mobile devices, so you can access your documents and financial data from anywhere. With Zoho Books, you can easily create invoices, track expenses, generate reports, and manage customers in one place. The app also offers features such as bank reconciliation, automated billing reminders, and real-time insights into your business finances. Zoho Books is the perfect solution for small businesses looking for easy-to-use accounting software that can be accessed from any device.


QuickBooks Desktop: Best Multi-company Accounting Software
QuickBooks Desktop is one of the most popular software solutions for multi-company accounting. It is designed to help businesses manage their finances and accounting processes with ease. It offers a range of features, such as multi-company support, bank reconciliation, invoicing, and payroll management. QuickBooks Desktop also offers integrations with third-party applications and services to further streamline your accounting operations. With its intuitive user interface and powerful features, QuickBooks Desktop is an ideal solution for businesses looking for comprehensive multi-company accounting software.


Xero: Best Accounting Software for Unlimited Users
Xero is a powerful and intuitive accounting software that helps businesses of all sizes manage their finances. It has features such as invoicing, payroll, and financial reporting that are essential for any business. Xero also offers unlimited users, meaning you can have an unlimited number of users accessing your data and making changes to it. This makes it ideal for businesses with multiple users or locations. With Xero's easy-to-use interface and comprehensive features, it is no wonder why it is one of the best accounting software solutions available today.


FreshBooks: Best for Small Service-based Businesses
FreshBooks is a cloud-based accounting software that is designed specifically to meet the needs of small service-based businesses. It helps business owners to manage their finances, invoices, and expenses in an easy and organized way. With FreshBooks, business owners can easily track customer payments, generate invoices, and keep track of their expenses. The software also makes it easier for business owners to manage their taxes by providing them with reports on income and expenses. Furthermore, FreshBooks also provides users with tools to help them collaborate with their team members more efficiently. All in all, FreshBooks is an ideal choice for small service-based businesses looking for an efficient way to manage their finances.


How can MAC help you in financial services?
MyAccountsConsultant is a financial service provider that helps individuals and businesses make the most of their money. Our team of experienced professionals provides expert advice on all aspects of financial services, from budgeting and investing to tax planning and retirement planning. We strive to make sure that our clients get the best possible outcomes from their investments and financial decisions. With MyAccountsConsultant, you can rest assured that you are getting the best advice available to help you reach your financial goals.

Contact us here for managing your business accounting services now!