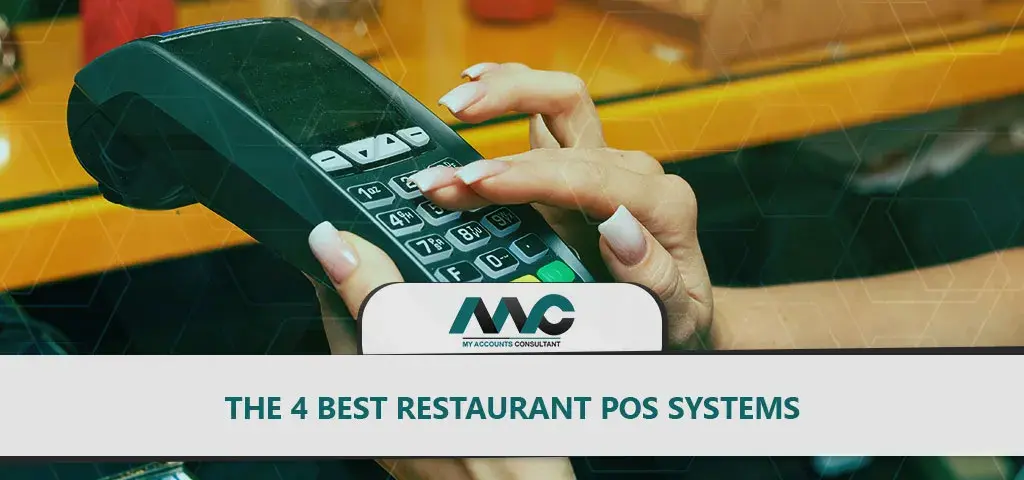 If you're a restaurant owner, then you know that a Point of Sale (POS) system is essential for your business. A POS system helps you track sales, manage inventory, and more. But with so many different POS systems available, which one should you choose? Here are 4 best restaurant POS systems available today.
What to think about when choosing the best restaurant POS system?
Making the decision to invest in a restaurant point of sale (POS) system is a big one. After all, this is something that will be integral to your business operations and can affect everything from inventory management and customer service to employee efficiency. With so many different options on the market, it can be difficult to determine which system is right for your restaurant.

Here are some things to think about when choosing the best POS for your business.
1) Inventory and Product Management
Restaurant POS systems that include inventory and product management features can help restaurant owners keep track of the products they have in stock, how much of each product is available, and when items need to be reordered. These features can also help restaurateurs price menu items accurately and make sure they are staying within their budget. Additionally, product management features can assist in creating recipes and food orders. By using a restaurant POS system with inventory and product management capabilities, business owners can streamline their operations and improve their bottom line.


2) Payment Processing.
In the restaurant business, payment processing is a vital part of day-to-day operations. Understanding the different types of payment processors and what each can offer your business is essential in making the right decision for your restaurant.


3) Seamlessly Reports to your Bookkeeping Software
Restaurant Point of Sale (POS) Systems are a great way to manage your restaurant's day-to-day operations, but what happens when it's time to report your sales data to your bookkeeping software? oftentimes, restaurateurs find themselves exporting data from their POS system into a spreadsheet or QuickBooks and then importing that data into their bookkeeping software. This can be a tedious process - but it doesn't have to be! QuickBookks Bookkeeping Services helps you in manage all your financial needs.

4 Amazing Restaurant POS Systems
Restaurant POS Systems, or Point of Sale Systems, are essential for any restaurant. They help keep track of sales, inventory, and customer information. There are many different types of POS Systems available, so it can be hard to decide which one is right for your restaurant. This blog post will discuss the different types of POS Systems available and what each one can do for your restaurant. We will also compare two popular POS Systems, Square and TouchBistro, to show you which one may be best for you.
4 Amazing Restaurant POS Systems
1. Toast POS
Are you looking for a new restaurant POS system? If so, you should definitely consider Toast. Toast is a leading provider of cloud-based point of sale software for the restaurant industry. Their software is easy to use and can help you manage your business more efficiently. In addition, Toast offers excellent customer support, so you can rest assured that you're in good hands. If you're considering a new restaurant POS system, be sure to check out Toast!
2. Lightspeed POS
Lightspeed is a POS (point-of-sale) system that allows you to run your restaurant more efficiently. With Lightspeed, you can track inventory, manage employees, and accept payments. In this blog post, we'll discuss the benefits of using Lightspeed POS in your restaurant. We'll also provide tips on how to get started with Lightspeed. So, if you're looking for a powerful and reliable POS system, Lightspeed is a good option to consider.
3. Shopkeep
The Shopkeep POS System is a cloud-based POS that is perfect for restaurants of all sizes. It is easy to use and can be accessed from any device with an internet connection.Shopkeep also offers a wide range of features, including: inventory management, employee tracking, customer profiles, and more. If you are looking for a user-friendly and feature-rich restaurant POS system, then Shopkeep is definitely worth considering.
4. Square
Square is a mobile app that allows businesses to process card payments. Square has been popular among small businesses, because there is no monthly fee and the app can be used on a smartphone or tablet. In addition to processing payments, Square also offers other features such as employee time tracking and inventory management. Recently, Square has been expanding its services to larger businesses.

Contact us here for choose Best Restaurant POS Systems.